Innovative DJ Entertainment For All Occasions & Events!
What started over a two decades ago at high school proms in Westchester is now a full time job for Kaos Productions. Owner Michael Paul Mirabella, DJ Kaos, continues to establish himself… recently "Voted BEST DJ in the HUDSON VALLEY" – Hudson Valley Nightlife.
When he was 14 years old, Kaos would accompany his older brothers, who were deejays themselves, to various parties and watched in amazement as DJ equipment gave a rise to the surrounding crowd. He would carry his brothers vinyl records in milk crates for them every chance he could get.
"If I was lucky they would even let me touch the turntables to mix or cut a song."
Kaos' high energy, seamless transitions, and unique style have made him a staple name in the music & entertainment industry.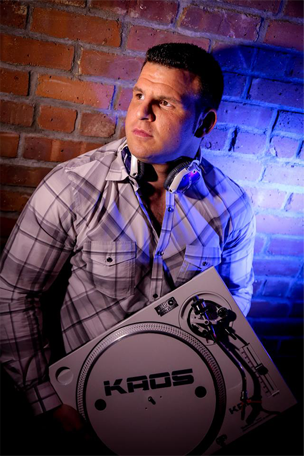 A few years later with a continuing confidence and passion for music Kaos had his chance to show his creativity and skill in a battle of deejays in Westchester County. Within seconds a reaction rose amongst the crowd, which granted him a WIN and gained the interests of many promoters and nightclub owners ears. All the support for and hard work from Kaos escalated his DJing career in the Tri-State area and beyond. From that moment on the journey began as Kaos' talent and sounds would perform in various venues throughout New York City, Westchester, Connecticut and Long Island. He also performed out of state and out of the country over the years. He has performed at some of the most popular clubs. To name a few… 1 Oak, Suite 36, Apella, STK, Amnesia, Nikki Beach, Saci, Studio 450, Providence, Webster Hall, W Hotel (Times Square), Slate, Union Square Ballroom and Hudson Terrace, all in the Big Apple, New York City. Cavo in Astoria, Queens. Aqua ar, Palladium/Arena, Streets, and Deep, New Rochelle N.Y., Emanon, Pure, 42 @ The Ritz, Porterhouse and a Current Residency @ Hudson Grille Cafe, White Plains N.Y. and Hudson Grille, Stamford C.T.
Kaos is known for his natural born ability to move crowds with his eclectic versatile style. He has become one of the most respected DJs in the music industry.
While establishing himself as a powerful icon in the nightclub industry Kaos was also continuing to develop and expand his Mobile Entertainment company. During this time, Kaos also began working with Untouchable Events in NYC. Kaos & his partner Joe Nyce recently left the NYC based company and began their own Bar-Bat Mitzvah Production Division  – NYCE Productions.
Kaos' experience from various high end private events and many venue guest spots and residencies at nightclubs across the tri-state have consistantly driven him to develop into one of the premier mobile DJs in the business.
Kaos Productions has now become one of the most Innovative Mobile DJ companies serving the Tri-State area. As the Preferred Entertainment Choice of 42 "The Restaurant" in The Ritz Carlton – White Plains, N.Y. & Ethan Allen Hotel – Danbury, C.T., Kaos Productions has also performed at various events for clientele such as, Saturday Night Live, MTV, Americas Best Dance Crew (ABDC), New Jersey Nets, NBC and Anheuser-Busch. Kaos Productions has also worked along side many celebrities at private events including, Britney Spears, 50 Cent, Ciara, Kat Deluna, Rev Run (Run DMC), Steven Tyler, Drake, DJ Spinbad, Funk Master Flex, DJ Skribble, LMFAO, Michael Kay, Henrik Lundqvist of the New York Rangers, Amani Toomer of the New York Giants, and Bravo's: The Real Housewives of New York.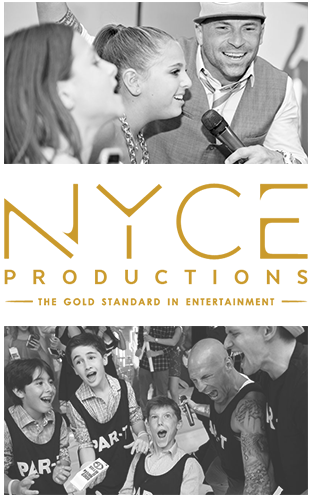 Kaos Productions has also made the press. Mentioned for our elaborate shows and high energy in The WAG Magazine, The KNOT Magazine and the Daily News for a celebrity wedding held at Cipriani, N.Y. Kaos Productions – Innovative DJ Entertainment is also a 5 Star Rated Company on Wedding Wire and has been a recipient of several Brides Choice Awards over the years.
From Birthday Parties/Sweet Sixteens to Proms, Weddings, Bar-Bat Mitzvahs and Corporate Events, our goal is to make every event unique and unforgettable. With some of the most sort after performers in the Industry, Kaos Productions staff use their talent, enthusiasm and experience to perfect events of any size for any occasion. We also offer Percussion, Saxophone, and Electric Violin to bring the room alive with live sound mixed with our high energy DJs.
From planning to production nothing is overlooked nor less then what you expect. Our Designs and Concepts from Music and Entertainers, Lighting, Staging and TV's bring your event to life and everlasting. Let us be a part of creating your next dream event!